Silver White Synthetic mica pearl pigment
Product Name: Silver white synthetic mica pearl pigment
Synthetic fluorophlogopite platelets coated with Titanium Dioxide
Has better purity, luster, brightness, sparkle effects than Natural mica pigments
Exw price: USD12,50/KG
Mininum Orcher Quantity
描述

Silver white Synthetic Mica pearl pigment:
Synthetic fluorophlogopite platelets coated with Titanium Dioxide.
As the modern industrial technology, Synthetic fluorophlogopite is absolutely transparent and free of natural impurities such as iron oxides and other heavy metals, it brings better purity, luster, whiteness, brightness, sparkle effects to synthetic mica pearl pigment in compare with Natural mica pigment.
The most popular series for Daily cleaning & care products, Cosmetics.

| | | | |
| --- | --- | --- | --- |
| Product Code | Particle Size | Name | Effect |
| | (um) | | |
| SW80AY | 50-500 | Crystal super sparkle | Super crystal super sparkle silver |
| SW160AY | 40-200 | Crystal super sparkle | Super crystal super sparkle silver |
| SW400AY | 10-125 | Crystal sparkle white | Crystal sparkle silver white |
| SW600AY | 10-60 | Crystal super white | Crystal super silver white |
| SW800AY | 5-25 | Crystal rutile | Satin crystal silver white |
| SW1000AY | 1-15 | Crystal micro white | Fine crystal satin silver white |

Color chart:

Applications: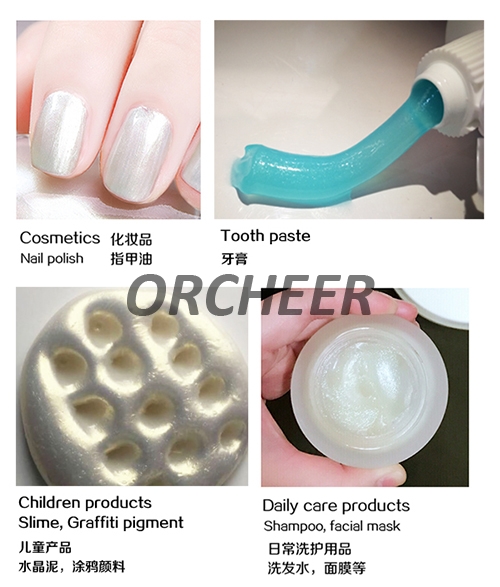 Certifications
: MSDS, TDS, COA, SGS
Packing details:
25kgs per carton box/ drum
450kgs per tray / pallet
About 6750kg per 20GP